Willow Creek Journal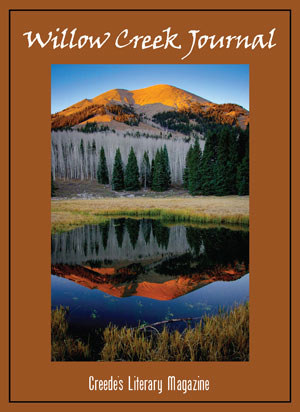 Look for the 2017 Willow Creek Journal on the counter in local Creede businesses.
NOTE: The Creede Arts Council will not be producing the Journal in 2018.
The Willow Creek Journal is a wonderful collection of local and regional art, prose, and poetry. This is a chance for the community to see their works in a professionally produced magazine that captures the themes and realities of life in the Creede area. The WCJ is published annually and contains writing and artwork by residents and visitors to Creede, Mineral County and the San Luis Valley.

The Creede Arts Council is proud to be able to provide this unique literary journal and appreciates the excellent contributions made to it over the years!
2017 Winners
Adult Poetry: Terry Coombs - "Mi Amigo"
Short, Short Story: Carol Geil - "The Lights of Creede"
1st Place Middle School Poetry: Klara Mankowski - "I Follow the Stars"
2nd Place Middle School Poetry: Leah Arnold - "Every Girl Needs a Friend"
3rd Place Middle School Poetry: Sofia Branda - "My Beat"
Elementary Poetry: Tessa Vita - "Creede"
1st Place Art: Triston Johnson - "Wrapped Eagle"
2nd Place Art: Dane Fluke - "Ansel Adams 2"
1st Place Middle School Art: Mamie Hess - "Raccoon