Mountain Shootout Photography Exhibit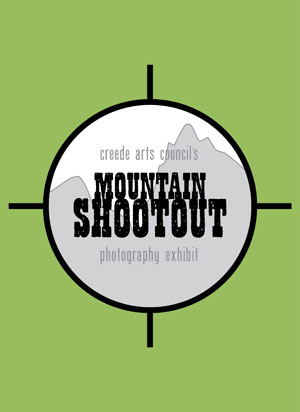 2018 Show Dates: Opening June 29; Up through September 17
Entries due June TBD
The Mountain Shoot Out Photography Show will open in June and be available to view through September at the Creede Visitor Center. Each year, around 30 artists submit their favorite area photograph to the competition.
Come cast your vote for the People's Choice Award! The photo chosen for this award will be purchased by the Creede Arts Council and permanently displayed at the Creede Visitor Center.
2017 Mountain Shoot Out Award Winners:
1st Prize: Tyler Garcia, "High Valley"
2nd Prize: Carolyn Keller, "Reflected Truck"
3rd Prize: Dennis House, "Alaskan Moose"
Honorable Mention - Wildlife: Kate Brofft, "Slumgullion Moose"
Honorable Mention:
Jim Collins, "Old Mine (color)"
Amber Lynn Newhouse, "Frozen Ranch"
Tim ScheerBlue Glass Splash
Bob Seago, "Mannequins"
Bob Seago, "Creede 4th of July Fireworks"
Past winners of People's Choice Award